1. A spinning charge generates a magnetic field, as shown by the animation on the right.
The resulting spin-magnet has a magnetic moment (μ) proportional to the spin.

2. In the presence of an external magnetic field (B0), two spin states exist, +1/2 and-1/2.
The magnetic moment of the lower energy +1/2 state is aligned with the external field, but that of the higher energy -1/2 spin state is opposed to the external field. Note that the arrow representing the external field points North.

3. The difference in energy between the two spin states is dependent on the external magnetic field strength, and is always very small. The following diagram illustrates that the two spin states have the same energy when the external field is zero, but diverge as the field increases. At a field equal to Bx a formula for the energy difference is given (remember I = 1/2 and μ is the magnetic moment of the nucleus in the field).

Strong magnetic fields are necessary for nmr spectroscopy. The international unit for magnetic flux is the tesla (

T

). The earth's magnetic field is not constant, but is approximately 10

-4

T at ground level. Modern nmr spectrometers use powerful magnets having fields of 1 to 20 T. Even with these high fields, the energy difference between the two spin states is less than 0.1 cal/mole. To put this in perspective, recall that infrared transitions involve 1 to 10 kcal/mole and electronic transitions are nearly 100 time greater.

For nmr purposes, this small energy difference (ΔE) is usually given as a frequency in units of MHz (10

6

Hz), ranging from 20 to 900 Mz, depending on the magnetic field strength and the specific nucleus being studied. Irradiation of a sample with radio frequency (rf) energy corresponding exactly to the spin state separation of a specific set of nuclei will cause excitation of those nuclei in the +1/2 state to the higher -1/2 spin state. Note that this electromagnetic radiation falls in the

radio and television broadcast spectrum

. Nmr spectroscopy is therefore the energetically mildest probe used to examine the structure of molecules.

The nucleus of a hydrogen atom (the proton) has a magnetic moment μ = 2.7927, and has been studied more than any other nucleus.

The previous diagram may be changed to display energy differences for the proton spin states (as frequencies) by mouse clicking anywhere within it

.

4. For spin 1/2 nuclei the energy difference between the two spin states at a given magnetic field strength will be proportional to their magnetic moments. For the four common nuclei noted above, the magnetic moments are: 1H μ = 2.7927, 19F μ = 2.6273, 31P μ = 1.1305 & 13C μ = 0.7022. These moments are in nuclear magnetons, which are 5.05078•10-27 JT-1. The following diagram gives the approximate frequencies that correspond to the spin state energy separations for each of these nuclei in an external magnetic field of 2.35 T. The formula in the colored box shows the direct correlation of frequency (energy difference) with magnetic moment (h = Planck's constant = 6.626069•10-34 Js).
Chemical Shift
Unlike infrared and uv-visible spectroscopy, where absorption peaks are uniquely located by a frequency or wavelength, the location of different nmr resonance signals is dependent on both the external magnetic field strength and the rf frequency. Since no two magnets will have exactly the same field, resonance frequencies will vary accordingly and an alternative method for characterizing and specifying the location of nmr signals is needed. This problem is illustrated by the eleven different compounds shown in the following diagram. Although the eleven resonance signals are distinct and well separated, an unambiguous numerical locator cannot be directly assigned to each.
The compounds referred to above share two common characteristics:
•

The hydrogen atoms in a given molecule are all

structurally equivalent

, averaged for fast conformational equilibria.

•

The compounds are all liquids, save for neopentane which boils at 9 °C and is a liquid in an ice bath.
The general distribution of proton chemical shifts associated with different functional groups is summarized in the following chart. Bear in mind that these ranges are approximate, and may not encompass all compounds of a given class. Note also that the ranges specified for OH and NH protons (colored orange) are wider than those for most CH protons. This is due to hydrogen bonding variations at different sample concentrations.
Proton Chemical Shift Ranges*

Low Field
Region

High Field
Region

* For samples in CDCl3 solution. The δ scale is relative to TMS at δ = 0.
Signal Strength
Hydroxyl Proton Exchange and the Influence of Hydrogen Bonding
R-O-

H

+

D

2O

R-O-

D

+

D

-O-

H

π-Electron Functions
For additional examples of chemical shift variation near strongly anisotropic groups
Click Here
.
Solvent Effects
Some Typical 1H Chemical Shifts (δ values) in Selected Solvents
CDCl3
C6D6
CD3COCD3
CD3SOCD3
CD3C≡N
D2O
(CH3)3C–O–CH3
C–CH3
O–CH3
1.19
3.22
1.07
3.04
1.13
3.13
1.11
3.03
1.14
3.13
1.21
3.22
(CH3)3C–O–H
C–CH3
O–H
1.26
1.65
1.05
1.55
1.18
3.10
1.11
4.19
1.16
2.18
---
---
C6H5CH3
CH3
C6H5
2.36
7.15-7.20
2.11
7.00-7.10
2.32
7.10-7.20
2.30
7.10-7.15
2.33
7.15-7.30
---
---
(CH3)2C=O
2.17
1.55
2.09
2.09
2.08
2.22
Spin-Spin Interactions
| | | |
| --- | --- | --- |
| | | |
| 1,2-dichloroethane | | 1,1-dichloroethane |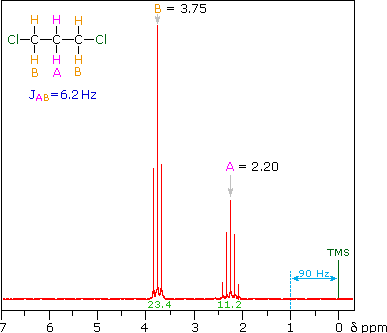 1)

Nuclei having the same chemical shift (called

isochronous

) do not exhibit spin-splitting. They may actually be spin-coupled, but the splitting cannot be observed directly.

2)

Nuclei separated by three or fewer bonds (e.g. vicinal and geminal nuclei ) will usually be spin-coupled and will show mutual spin-splitting of the resonance signals (same J's), provided they have different chemical shifts. Longer-range coupling may be observed in molecules having rigid configurations of atoms.

3)

The magnitude of the observed spin-splitting depends on many factors and is given by the coupling constant

J

(units of Hz). J is the same for both partners in a spin-splitting interaction and is independent of the external magnetic field strength.

4)

The splitting pattern of a given nucleus (or set of equivalent nuclei) can be predicted by the

n+1 rule

, where n is the number of neighboring spin-coupled nuclei with the same (or very similar) Js. If there are 2 neighboring, spin-coupled, nuclei the observed signal is a triplet ( 2+1=3 ); if there are three spin-coupled neighbors the signal is a quartet ( 3+1=4 ). In all cases the central line(s) of the splitting pattern are stronger than those on the periphery. The intensity ratio of these lines is given by the numbers in Pascal's triangle. Thus a doublet has 1:1 or equal intensities, a triplet has an intensity ratio of 1:2:1, a quartet 1:3:3:1 etc. To see how the numbers in Pascal's triangle are related to the Fibonacci series

click on the diagram

.
Some Examples
Even when numerous C-H groups are present, an unambiguous interpretation of a proton nmr spectrum may not be possible. The following diagram depicts three pairs of isomers (A & B) which display similar proton nmr spectra. Although a careful determination of chemical shifts should permit the first pair of compounds (blue box) to be distinguished, the second and third cases (red & green boxes) might be difficult to identify by proton nmr alone.
13C Chemical Shift Ranges*

Low Field
Region

High Field
Region
* For samples in CDCl3 solution. The δ scale is relative to TMS at δ=0.